653 Chenery Street
in San Francisco's Glen Park neighborhood
1-415-586-3733
[email protected]
Open to walk-in trade and browsing
Tuesday to Sunday
noon to six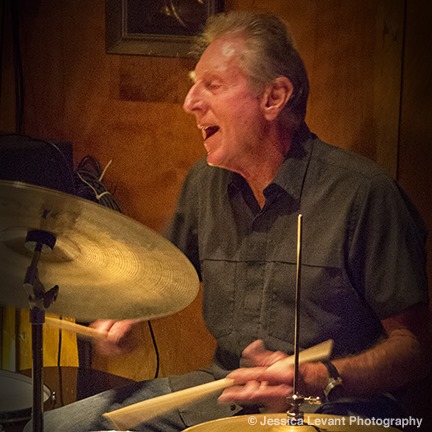 Drummer Tony Johnson leads a quartet on the 4th Friday of each month, and tonight, it's the "Irregulars" — a quartet led by Tony with long-time associates Charlie McCarthy on reeds, Glen Deardorff on guitar and Al Obidinski on bass making it swing from bop to bossa. Jazz  you can count on!

A little history: This quartet, vital as it is, is a legacy outfit descended from the Chuck Peterson Trio of yore.  That is to say, "jazz in the bookshop" as a regular thing started on a Friday evening in the fall of 2002, October to be precise, in the old shop on Diamond Street, when neighborhood saxophonist Chuck Peterson started a weekly, Friday evening tradition that continues to this day. The trio early on became a quartet, and then a quintet when tenor player and arranger Bill Perkins settled into the front line with Chuck, providing terrific charts and impeccable musicianship. Bill retired in 2007 when Parkinson's took its toll, though he continued to listen to our then-primitive live stream for years until the technology broke down (he regretted that loss greatly, and we're quite sorry about that!). It wasn't until the pandemic that we were able to build a live stream that's made it the satisfying reality it is now. Hope Bill's listening!
When Bill Perkins retired, Howie Dudune, a mentor of Chuck's when Chuck was starting out, took the chair and played sweetly with the band for years as its personnel quickly solidified to comprise a rhythm section of Tony Johnson on drums, Dean Reilly on bass and Glen Deardorff on guitar and always a second horn. Dorothy Lefkovits often sang with the band, and those were very special nights, indeed.
When Chuck retired and moved up to Petaluma several years ago, the band brought Jerry Logas onto the front line; then Howie passed away, and Ray Loeckle, himself a protégé of Chuck's as Chuck had been a protégé of Howie's, took Chuck's chair. And there the band stayed, two reeds plus rhythm, Ray, Jerry, Glen, Dean and Tony, and they kept swinging hard and happily. Until the pandemic hit.
Not so long ago, March 2020, the band went into hiatus until it began to plan its return to the bookshop stage near the end of that year. Tony and Glen made it back, but along the way we lost Ray to retirement, and sadly we saw the demise of both Dean Reilly and Jerry Logas due to cancer in just the past few months. Chuck continues to watch over the band and our jazz tradition from his remove up in Petaluma and checks in from time to time. Dorothy is back east, living near her daughter, singing sweetly with impeccable swing as ever, we're sure, whenever she gets the chance.
Now, Tony leads a quartet in Chuck's long-established last-Friday-of-the-month slot; and every other month, the personnel includes Glen on guitar plus two of their contemporaries, reeds player Charlie McCarthy and bassist Al Obidinski. The tradition swings on, covering the bases from bop to hard bop to bossa to straight-ahead swingin' jazz classics. Always Bird & Beckett's favorite Friday of the month — though with Scott Foster's third-Friday booking, also with CP3 roots, we don't really try to choose between them. We love 'em both and owe our historic position and longevity in the San Francisco scene to them!
The beat goes on!
No audiences in the shop just yet.

$20 suggested donation
or pay what your economics allow
at this link
We pay a "guaranteed fair wage"
of $150 to each musician performing
in our Friday and Saturday evening live streams
and you are the first ones we look to in order
to get that money together, so please do what you can!
We are extremely grateful as well to the many individuals
in the community who donate to our nonprofit
Bird & Beckett Cultural Legacy Project (the "BBCLP")
to help us build up the general fund from which
we augment audience donations when necessary!
Monthly donations are particularly helpful.
Donate to the BBCLP at this link to further our work!
Any questions?
Email [email protected] or call us at 415-586-3733!
We also thank and gratefully acknowledge
the City & County of San Francisco's Grants for the Arts
for operating support of the Bird & Beckett Cultural Legacy Project!
TAKE OUR SURVEY
To take our SURVEY, click here, and help the BBCLP get to know you better! As Duke Ellington always said, we love you madly...
Our events are put on under the umbrella of the nonprofit Bird & Beckett Cultural Legacy Project (the "BBCLP"). That's how we fund our ambitious schedule of 300 or so concerts and literary events every year.
The BBCLP is a 501(c)(3) non-profit...
[Read More ]
---
Gigging musicians! You have nothing to lose but your lack of a collective voice to achieve fair wages for your work!
The IMA can be a conduit for you, if you join in to make it work.
https://www.independentmusiciansalliance.org/

Read more here - Andy Gilbert's Feb 25 article about the IMA from KQED's site
Sign Up for Our Weekly Emails!