653 Chenery Street
in San Francisco's Glen Park neighborhood
1-415-586-3733
[email protected]
Open to walk-in trade and browsing
Tuesday to Sunday
noon to six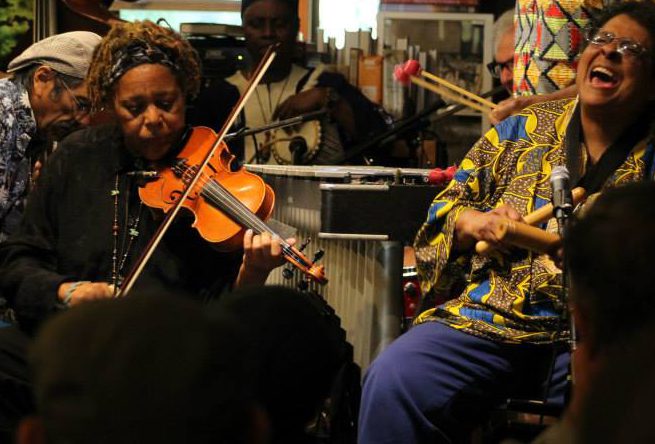 Live on KPFA!
BAJABA SHOWCASE
& the healing magic of
Poetry, Jazz & the Fire of WordSong
Live on www.KPFA.org with members of
AVOTCJA & MODUPUE
Bay Area Blues Hall Of Fame
Jazz Group Of The Year 2010 & 2005

SANDI POINDEXTER (Violin)
FRANCIS WONG (Sax & Flute)
VAL SERRANT (Steel Drum & Djembe)
RAUL RAMIREZ (Multi-Percussion)
AVOTCJA (Poet/sm. Multi-Percussion)
it's gonna be magical … come to the studio and share the vibe!!!
or listen live!!!
SATURDAY JULY 1st at 11PM
Live in the Studio
of Listener Sponsored
KPFA
1929 Martin Luther King Jr. Way
Berkeley, CA 94704
www.kpfa.org
KPFA 94.1FM KPFB 89.3FM
TAKE OUR SURVEY
To take our SURVEY, click here, and help the BBCLP get to know you better! As Duke Ellington always said, we love you madly...
Our events are put on under the umbrella of the nonprofit Bird & Beckett Cultural Legacy Project (the "BBCLP"). That's how we fund our ambitious schedule of 300 or so concerts and literary events every year.
The BBCLP is a 501(c)(3) non-profit...
[Read More ]
---
Gigging musicians! You have nothing to lose but your lack of a collective voice to achieve fair wages for your work!
The IMA can be a conduit for you, if you join in to make it work.
https://www.independentmusiciansalliance.org/

Read more here - Andy Gilbert's Feb 25 article about the IMA from KQED's site
Sign Up for Our Weekly Emails!