Friday, August 19th – 5:30-8 pm
The Scott Foster Ensemble feat. Danny Bittker
jazz in the bookshop every Friday evening!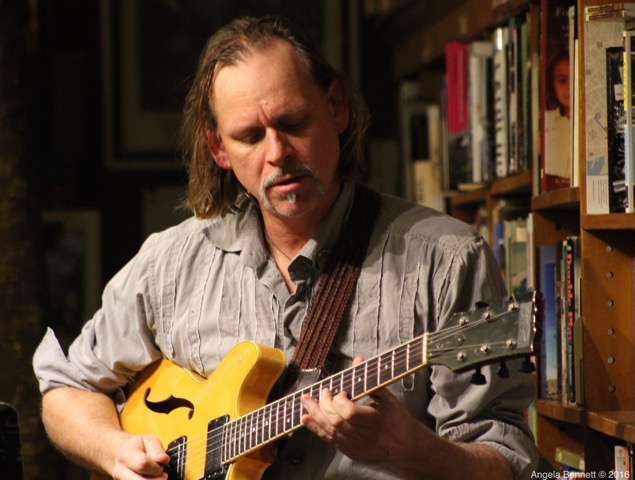 Guitarist Scott Foster has assembled a band featuring Danny Bittker on a variety of reeds — clarinet, bass clarinet and tenor sax — and Mike Rinta on trombone!
Danny's a marvelous player with soul and humor to spare. He's played at Bird & Beckett many times in the past, notably with his gypsy jazz outfit, Eclair de Lune. Tonight, he dons the hat of music director, much to Scott's pleasure.
Trombonist Mike Rinta joins Danny on the front line. Mike has toured widely, and performs and arranges for Pacific Mambo Orchestra. He's more than game for what Danny has in mind for tonight.
Bassist Michael Price worked with Dan Hicks in his late years, and has an affinity for clever country swing as well as trad jazz, evidence his time in the Reprobates and the New Moldy Figs.
Drummer Jack Dorsey plays with verve and ease, well attuned to New Orleans rhythms, R&B, swing and hard driving, straight-ahead jazz. He's always an asset on the bandstand.
Michael and Jack are down for whatever comes their way!
Scott promises big fun, and we have no doubt this band will deliver.
Nothing beats a Friday evening at Bird & Beckett as the musicians find the music that makes it all worthwhile. Too few know the joy Bird & Beckett regulars experience time and again. Lucky devils!
Our events are put on under the umbrella of the nonprofit Bird & Beckett Cultural Legacy Project (the "BBCLP"). That's how we fund our ambitious schedule of 300 or so concerts and literary events every year.
The BBCLP is a 501(c)(3) non-profit...
[Read More ]
Gigging musicians! You have nothing to lose but your lack of a collective voice to achieve fair wages for your work!
The IMA can be a conduit for you, if you join in to make it work.
https://www.independentmusiciansalliance.org/

Read more here - Andy Gilbert's Feb 25 article about the IMA from KQED's site