653 Chenery Street
in San Francisco's Glen Park neighborhood
1-415-586-3733
[email protected]
Open to walk-in trade and browsing
Tuesday to Sunday
noon to six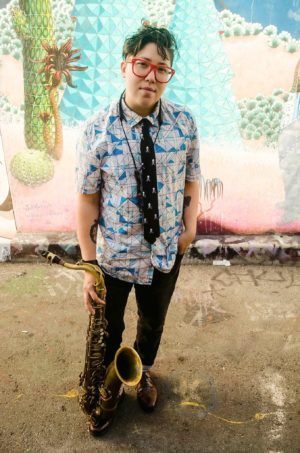 The Eli Maliwan Trio consists of Eli on Tenor Saxophone, Curtis Aikens on Upright Bass, and Kai Lyons on Electric Guitar. These three musicians and friends have played together in various projects and in different combinations over the years and their deep musical communication has developed into a unique and personal sound. The trio will be performing jazz standards.
Kai Lyons has played with Big Chief Donald Harrison, drummer Mike Clark from Herbie Hancock Headhunters, organist Will Blades, and pianist Larry vuckovich. Studied jazz with Mulgrew Miller, Harold Mabern, Vincent Herring, Rich Perry, and Gene Bertoncini at William Paterson University outside of New York City. He frequently travels to Cuba, New Orleans, New York City, and Brazil, and has studied music in Ghana Africa
Bassist and Composer Curtis Aikens is a versatile musician who has worked in a variety of settings including theater pits, orchestras, folk, rock and hip hop bands, but jazz is his passion. He began his studies of jazz in middle school with the late Mel Martin at the age of 12, and continued his education at The Idyllwild Arts Academy where, in addition to jazz, he studied classical bass and composition, with continued composition studies at The San Francisco Conservatory of Music. Curtis performs all over the Bay Area and the world as a freelance musician, and is a member of the bands Sueños, and Tohkay. Curtis is also an in demand educator; he is currently a rhythm section coach at Berkeley high school and has a studio of private bass students.
Eli Maliwan is honored to have played at several prestigious jazz festivals such as Uberjazz in Hamburg Germany opening for the Sun Ra Arkestra, Portland Jazz Festival in Oregon, SF Jazz in CA, Bric Jazz Festival in NY, Winter Jazzfest in NY, as well as several dates with Salami Rose Joe Louis Quartet opening on Flying Lotus's 2019 tour, and other notable shows with various projects. Eli has had the honor of performing with Jimmy Heath, Steve Turre, James Moody, Slide Hampton, and Alphonso Johnson. He has both his Bachelor's and Master's Degrees in Jazz Performance and has been mentored by Anton Schwartz, Gary Bartz, Darrell Grant, Alan Jones, and Paul Novros. Eli currently plays in several projects in the Bay Area, as well as leads of his own group: Saxreligious. He is on faculty at Stanford Jazz Workshop's Giant Steps Program, and co-leads workshops with the Toag Quartet at Oakland High School.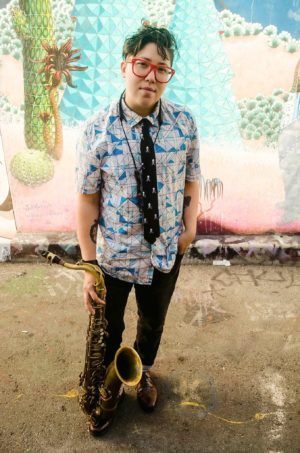 suggested cover charge — $20

sliding scale — $2 to $200
Support live music & the musicians who play it! 
Use the links below:
Take in the show on
YouTube  or  Facebook
Pay your cover charge / make your donation
Subscribe to our YouTube channel
Subscribe to our newsletter
Bird & Beckett pays a guaranteed fair wage
of $150 per musician
and supplements it as your donations allow.
That will take some heavy lifting on your part,
but heavy makes you happy.
And if you're struggling in these tough times,
the show is on us & your friends in the cyberstream!
TAKE OUR SURVEY
To take our SURVEY, click here, and help the BBCLP get to know you better! As Duke Ellington always said, we love you madly...
Our events are put on under the umbrella of the nonprofit Bird & Beckett Cultural Legacy Project (the "BBCLP"). That's how we fund our ambitious schedule of 300 or so concerts and literary events every year.
The BBCLP is a 501(c)(3) non-profit...
[Read More ]
---
Gigging musicians! You have nothing to lose but your lack of a collective voice to achieve fair wages for your work!
The IMA can be a conduit for you, if you join in to make it work.
https://www.independentmusiciansalliance.org/

Read more here - Andy Gilbert's Feb 25 article about the IMA from KQED's site
Sign Up for Our Weekly Emails!