653 Chenery Street
in San Francisco's Glen Park neighborhood
1-415-586-3733
[email protected]
Open to walk-in trade and browsing
Tuesday to Sunday
noon to six
If the stream stops prematurely here, scoot over to facebook or youtube where the party's still going on!

Friday, December 16th – 5:30-8:00 pm
The Scott Foster Trio celebrates their new cd — "Go Small"
recorded live at Bird & Beckett!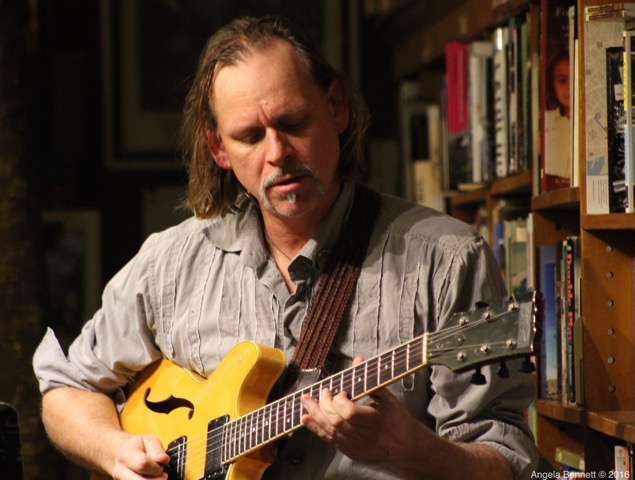 Go Small!
cd release party
The Scott Foster Trio
recorded live at
Bird & Beckett!
Cory Wright, clarinet
Scott Foster, guitar
Dan Seamans, bass
read an interview with Scott at this link!
Scott has been a featured guitarist at Bird & Beckett since our "jazz in the bookshop" series began nearly 15 years ago. For a long time, he was here weekly, though in more recent years, it's been the third Friday of each month. Throughout, he's been Bird & Beckett's favorite guitarist, bar none! Each time he brings a band to the stand, it's freshly conceived for the occasion, and always a delight.
Tonight, the trio will do a set, then they'll open up the second set and invite friends and colleagues to share the bandstand in celebration of all the jazz that emanates week after week from the bookshop.
This cd retains all the charm of our weekly Friday night sessions… continuous now for well over 700 consecutive Fridays since its inception in late 2002!
Available Now at Bird & Beckett
Hot off the press from your neighborhood bookshop just in time for the lame duck period. 75 million voters, and counting, have rejected fascism and lies. 70 million haven't yet made that commitment. Bully Goat's Bluff might change a few of their minds.
Fits nicely in an invitation envelope for mailing. Fits in a pocket as well.
~~ Poetry as philosophy to plumb the deeper truths of these times ~~
$15 and worth every penny
_ _ _
Jerry Ferraz is a keystone of
the Bird & Beckett cultural edifice, built by you through your decades-long love and support.
Our events are put on under the umbrella of the nonprofit Bird & Beckett Cultural Legacy Project (the "BBCLP"). That's how we fund our ambitious schedule of 300 or so concerts and literary events every year.
The BBCLP is a 501(c)(3) non-profit...
[Read More ]
Gigging musicians! You have nothing to lose but your lack of a collective voice to achieve fair wages for your work!
The IMA can be a conduit for you, if you join in to make it work.
https://www.independentmusiciansalliance.org/

Read more here - Andy Gilbert's Feb 25 article about the IMA from KQED's site