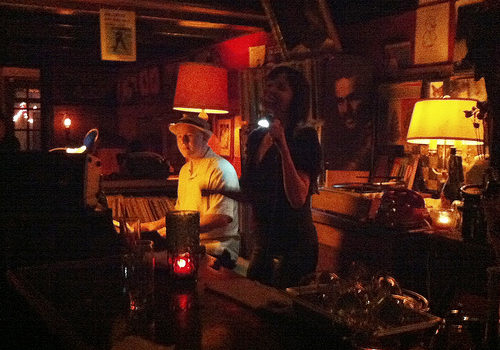 Sunday, December 13th – Noon-1:30 pm
Lavay Smith
and her Red Hot Skillet Lickers Soultet!
featuring Jules Broussard
and Danny Armstrong
Join us for our
Surf-a-billy Swing Time Dance Party finale! 
After a swingin' 14-month run, who better to wrap it up, tie a ribbon 'round it, and place it under your tree than the dynamo that started it off!
Lavay Smith and Her Red Hot Skillet Lickers Soultet featuring Jules Broussard and Danny Armstrong will thrill you and set you shimmying right into Christmas!
Lavay has been the toast of the town since 1989.  With the fabulous band that is the Red Hot Skillet Lickers, she's been a star attraction at Dizzy's in New York, Sculler's in Boston, The Green Mill in Chicago, The Dakota in Minneapolis, Jazz Alley in Seattle and The Jazz Kitchen in Indianapolis. When not touring, the Skillet Lickers regularly pack them in at Biscuits & Blues, The Cafe du Nord, The Club Deluxe, Ashkenaz, Rancho Nicasio and any number of other hot spots around the Bay. Thousands of fans have fond memories of catching them at now gone spots like Enrico's and the Blue Lamp.
One of the sweetest experiences you'll ever have is hearing Lavay with her keyboard man Chris Siebert lay down a long winter night of deep grooving blues and jazz at the little lounge called the Royal Cuckoo in the Mission District, where they hold forth as a duo on Sunday nights when they're off the road.
At the Cuckoo, they're often joined by one or another of the fantastic and seasoned veteran musicians who have passed through the Skillet Lickers over the years, teaching Lavay and Chris everything they need to know about making this music rich and making it swing. Jules Broussard and Danny Armstrong are among that fabled number with long, storied careers in the music who have given the Skillet Lickers a soulful depth that can't be surpassed.
Here's your chance to hear Lavay and her men tear it up in sweet little Glen Park. They're not to be missed.
Our events are put on under the umbrella of the nonprofit Bird & Beckett Cultural Legacy Project (the "BBCLP"). That's how we fund our ambitious schedule of 300 or so concerts and literary events every year.
The BBCLP is a 501(c)(3) non-profit...
[Read More ]
Gigging musicians! You have nothing to lose but your lack of a collective voice to achieve fair wages for your work!
The IMA can be a conduit for you, if you join in to make it work.
https://www.independentmusiciansalliance.org/

Read more here - Andy Gilbert's Feb 25 article about the IMA from KQED's site