653 Chenery Street
in San Francisco's Glen Park neighborhood
1-415-586-3733
[email protected]
Open to walk-in trade and browsing
Tuesday to Sunday
noon to six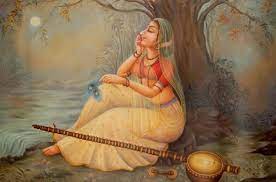 India's great poet of devotion and love, Mirabai, widowed at a young age, dedicated her life upon her husband's death to the worship of Krishna. It was a decision that led her parents-in-law to evict her from their home. She spent the rest of her life traveling from village to village, singing and dancing to celebrate her love of Krishna. The rapturous lyrics she wrote enthralled worshipers then and continue to be sung in India today.
Kabir, an illiterate weaver, celebrated both Indian and Muslim spirituality while criticizing each religion's blinkered believers. His clear-eyed expression, his wit and the continued relevance of his cutting insights led to a body of poetry that resonates still.
Mirabai and Kabir have enchanted their devotees and fascinated their admirers for five centuries, Jonathan Richman among them. On tambura, Nicole Montalbano accompanies Jonathan as he plays his guitar and sings poems left to us by these two profoundly wise and beautiful spirits.
TAKE OUR SURVEY
To take our SURVEY, click here, and help the BBCLP get to know you better! As Duke Ellington always said, we love you madly...
Our events are put on under the umbrella of the nonprofit Bird & Beckett Cultural Legacy Project (the "BBCLP"). That's how we fund our ambitious schedule of 300 or so concerts and literary events every year.
The BBCLP is a 501(c)(3) non-profit...
[Read More ]
---
Gigging musicians! You have nothing to lose but your lack of a collective voice to achieve fair wages for your work!
The IMA can be a conduit for you, if you join in to make it work.
https://www.independentmusiciansalliance.org/

Read more here - Andy Gilbert's Feb 25 article about the IMA from KQED's site
Sign Up for Our Weekly Emails!