653 Chenery Street
in San Francisco's Glen Park neighborhood
1-415-586-3733
[email protected]
Open to walk-in trade and browsing
Tuesday to Sunday
noon to six
Tonight: The Scott Foster Quartet conducts
"Further Experiments with Tom Hassett"
Tom Hassett, drums
Dan Seamans bass
Jim Peterson sax
Scott Foster, guitar
Musical journeys flowing from the mind of Mr. Hassett,
including repertoire from the John Scofield Quartet,
Billy Strayhorn, Bill Evans and others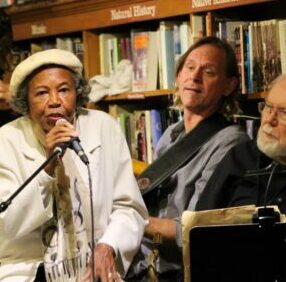 Scott Foster has been bringing jazz to Bird & Beckett for twenty-plus years on Fridays, beginning in late 2002–when it was a weekly engagement for years with the late tenor player Chuck Peterson leading the band. Now, Scott leads his own combos and shares the Fridays with a passel of other bands, still holding down the third Friday of each month, 5:30 to 8:00pm. It's the cornerstone booking in our jazz calendar.
Scott is a supremely talented and versatile player, composer and jazz educator, always a pleasure to hear.
Come down and find out for yourself.
BYOB and a twenty for the band. Pay just what you can manage, but don't neglect to help us pay the musicians a fair wage for an evening's work.
Jazz in San Francisco is a precious asset, and we're nurturing it here at Bird & Beckett with your help! Your donations to Bird & Beckett's 501(c)3 nonprofit organization are a big part of what makes it work.
Thanks!
TAKE OUR SURVEY
To take our SURVEY, click here, and help the BBCLP get to know you better! As Duke Ellington always said, we love you madly...
Our events are put on under the umbrella of the nonprofit Bird & Beckett Cultural Legacy Project (the "BBCLP"). That's how we fund our ambitious schedule of 300 or so concerts and literary events every year.
The BBCLP is a 501(c)(3) non-profit...
[Read More ]
---
Gigging musicians! You have nothing to lose but your lack of a collective voice to achieve fair wages for your work!
The IMA can be a conduit for you, if you join in to make it work.
https://www.independentmusiciansalliance.org/

Read more here - Andy Gilbert's Feb 25 article about the IMA from KQED's site
Sign Up for Our Weekly Emails!