653 Chenery Street
in San Francisco's Glen Park neighborhood
1-415-586-3733
[email protected]
Open to walk-in trade and browsing
Tuesday to Sunday
noon to six
Sylvia Cuenca has recruited magnificent players to join her in a quartet tonight, the late show on the first night of our eleven-day 20th anniversary celebration!
Andrew Speight, saxophone
Ben Stolorow, piano
Doug Miller,bass
Sylvia Cuenca,drums
Sylvia is a fabulous drummer, well traveled. She hails originally from San Jose — though she's established her career from her base in New York, including four years in the Joe Henderson Quartet, eleven years in trumpeter Clark Terry's band, and much much more. She's well known and highly regarded on both coasts and internationally.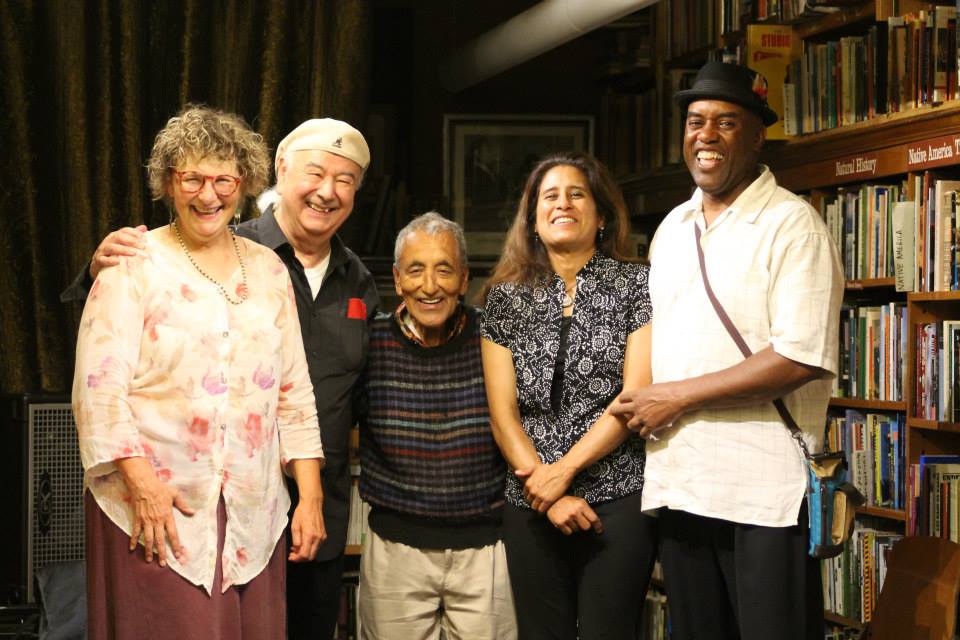 Sylvia played her first professional gig while still in her teens, hired for the job by the great San Francisco guitarist Eddie Duran — the one guy we know who played with Charlie Parker… That gig (Sylvia's with Eddie, not Eddie's with Bird) was at Pearl's Jazz Joint, when Pearl's was a basement club in the Great Eastern Restaurant in Chinatown. Remember Jazz at Pearl's when it was on Columbus near Broadway? Same Pearl…
Same Sylvia! But a seasoned pro now who often swings through Bird & Beckett with great musicians when she's out here visiting family.
That's Sylvia in the picture here the first time she passed through Bird & Beckett, after a gig celebrating Eddie Duran's 80th birthday, with trumpeter Al Molina, saxophonist Mad Duran and bassist Essiet Okon Essiet.
$20 cover charge tonight.
Sliding scale available to those of limited means.
TAKE OUR SURVEY
To take our SURVEY, click here, and help the BBCLP get to know you better! As Duke Ellington always said, we love you madly...
Our events are put on under the umbrella of the nonprofit Bird & Beckett Cultural Legacy Project (the "BBCLP"). That's how we fund our ambitious schedule of 300 or so concerts and literary events every year.
The BBCLP is a 501(c)(3) non-profit...
[Read More ]
---
Gigging musicians! You have nothing to lose but your lack of a collective voice to achieve fair wages for your work!
The IMA can be a conduit for you, if you join in to make it work.
https://www.independentmusiciansalliance.org/

Read more here - Andy Gilbert's Feb 25 article about the IMA from KQED's site
Sign Up for Our Weekly Emails!