653 Chenery Street
in San Francisco's Glen Park neighborhood
1-415-586-3733
[email protected]
Open to walk-in trade and browsing
Tuesday to Sunday
noon to six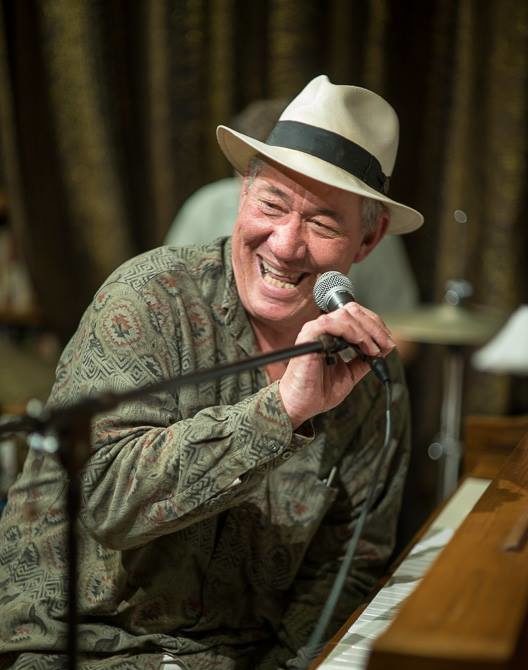 Eric Shifrin brings a Latin touch to the bandstand tonight, in a long-standing trio with bassist Paul Smith and drummer Raul Ramirez. $20 cover (cash, please!); doors open at 7:20 for the 7:30 show.  Bring a mask and something to drink, if you like. You're in for a delightful evening of music. Catch it in our live stream if you can't make it into the shop, but you really don't want to miss the real thing, in real time, in person.
Eric Shifrin learned piano as a child on his mother's lap and turned professional right out of high school, gigging on both alto sax and piano to earn his bread and butter. He was composing and recording from the start, put in time on cruise ships, spent crucial years in Japan and by the 1990s was rooted in the Bay Area, where his movable feast of music embodied in the combo called Eric and the In Crowd has been heard all over town for three decades. He's played Bird & Beckett for many years, with a panoply of wonderful and personable musicians. It's always a delight.
Paul Smith's intimate connection to the upright bass is rooted in his musical and personal partnership with the late Sheila Smith, born Sheila Ann Wilkerson. The two met in 1969 in the band of Brazilian Moacir Santos; by the early 1970s, they were frequently in Brazil for extended stretches, gigging and learning subtleties of harmony and rhythm that shape his playing to this day. It's not a stretch to say that every passage he plays has a bit of Sheila in it. And a bit of Brazil.
Raul Ramirez is from the port of Callao, Peru, a hub of musical innovation and the fusion of African and Spanish music styles. Raul began playing the Peruvian cajon on the streets of Callao, a traditional instrument that is the key to the Afro-Peruvian and coastal music styles. The cajon is a wooden box that became a drum in the hands of Peruvian musicians, denied the use of African instruments by the Spanish masters and later marginalized in the post colonial Peru. As a boy he followed the street musicians through the streets of this rough port town learning the marinera, zamacueca, festejo, lando and other Peruvian rhythms from the masters who went from bar to bar and played the back alleys of Lima.
As Raul matured as a musician he worked played in local radio orchestras and performed with many of the legendary Peruvian artists before moving to the USA in 1973. He arrived in the Bay Area during the post-hippy jazz renaissance and worked with jazz-rock jam bands organized by Grateful Dead collaborator Merl Saunders. In the Bay Area he became an important figure in the music scene working with George Duke, Mad and Eddie Duran, Denise Perrier, Lady Memphis, Frank Jackson, Eric Schifrin, The Bobs, Pedro Vargas, Piero, Susana Baca, Eva Ayllon, Cecilia Bracamonte, Houston Persons, Pete Escovedo and The Oakland East Bay Symphony and many others.
_____________________
Can't make it to the shop for the show? You can catch it online on the Bird & Beckett Facebook page or YouTube channel! We started streaming at the beginning of the pandemic and our chops and equipment have only improved and matured over time. You'll find a pretty nice show there if you go looking for it. And quite a few past recordings of Eric & various In Crowd incarnations.
If it's not economics that stop you from coming to the shop in person for the show (still far and away the best way to experience live music), please donate a little something to support the musicians, the venue and the stream. You'll see instructions on the screen for donating via Paypal, Venmo or the Cash app. Naturally, you can also send or drop a check by — make it out to the Bird & Beckett Cultural Legacy Project ("BBCLP") and notate in the memo line if the donation is for a specific show or intended for our general fund.
It's the general fund that fills the gaps that audience revenues can't, and donations to the BBCLP general fund are tax deductible.
Thanks to all those who have set up a monthly donation — that's huge and much appreciated. And thanks to all the one-time and annual donors large and small. We couldn't possibly do this without the general fund that those donations have helped us build up. No trust fund or real estate assets to rely on; we just rely on you! Whether buying a book, paying your cover charge or making a tax-deductible donation, you're the force behind the whole enterprise. Thanks so very much!
TAKE OUR SURVEY
To take our SURVEY, click here, and help the BBCLP get to know you better! As Duke Ellington always said, we love you madly...
Our events are put on under the umbrella of the nonprofit Bird & Beckett Cultural Legacy Project (the "BBCLP"). That's how we fund our ambitious schedule of 300 or so concerts and literary events every year.
The BBCLP is a 501(c)(3) non-profit...
[Read More ]
---
Gigging musicians! You have nothing to lose but your lack of a collective voice to achieve fair wages for your work!
The IMA can be a conduit for you, if you join in to make it work.
https://www.independentmusiciansalliance.org/

Read more here - Andy Gilbert's Feb 25 article about the IMA from KQED's site
Sign Up for Our Weekly Emails!