653 Chenery Street
in San Francisco's Glen Park neighborhood
1-415-586-3733
[email protected]
Open to walk-in trade and browsing
Tuesday to Sunday
noon to six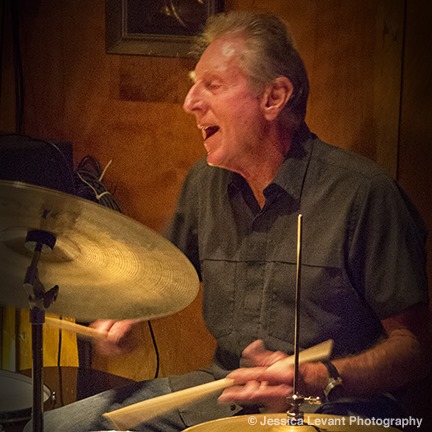 Drummer Tony Johnson brings in a quartet on the fourth Friday of each month. Tonight it's the 230 Jones Street Band, with Charlie McCarthy, saxophone & flute; Glen Deardorff, guitar and Al Obidinski, bass.
Four veteran jazz players, and long-time friends, swingin'.
$20 cash cover charge; byob & a mask.
Find the live stream on Bird & Beckett's
YouTube channel or Facebook page,
and donate if you possibly can to support
the musicians, the music and the venue!
Tony hit San Francisco in 1959, fresh off the boat from his native Australia, ready and raring to go. He got busy in the North Beach clubs right away, recorded in 1960 with vocalist Bev Kelly in a combo with legendary saxophonist Pony Poindexter, pianist Flip Nunez and bassist Johnny Allen at the Coffee Gallery on Grant Street, played behind Bobby Short at the Hungry I. Tony played on the Ed Sullivan Show with the Vagabonds (the house band of the Tropicana Hotel in Vegas), toured the country with George Shearing, backed Peggy Lee, recorded with the Claude Williamson Trio, and to this day drives the rhythm of the Smith Dobson Quartet and Swing Fever. He gigs constantly at venues throughout the Bay Area and Northern California, including Bird & Beckett, where he's been featured on our bandstand for years.
TAKE OUR SURVEY
To take our SURVEY, click here, and help the BBCLP get to know you better! As Duke Ellington always said, we love you madly...
Our events are put on under the umbrella of the nonprofit Bird & Beckett Cultural Legacy Project (the "BBCLP"). That's how we fund our ambitious schedule of 300 or so concerts and literary events every year.
The BBCLP is a 501(c)(3) non-profit...
[Read More ]
---
Gigging musicians! You have nothing to lose but your lack of a collective voice to achieve fair wages for your work!
The IMA can be a conduit for you, if you join in to make it work.
https://www.independentmusiciansalliance.org/

Read more here - Andy Gilbert's Feb 25 article about the IMA from KQED's site
Sign Up for Our Weekly Emails!