653 Chenery Street
in San Francisco's Glen Park neighborhood
1-415-586-3733
[email protected]
Open to walk-in trade and browsing
Tuesday to Sunday
noon to six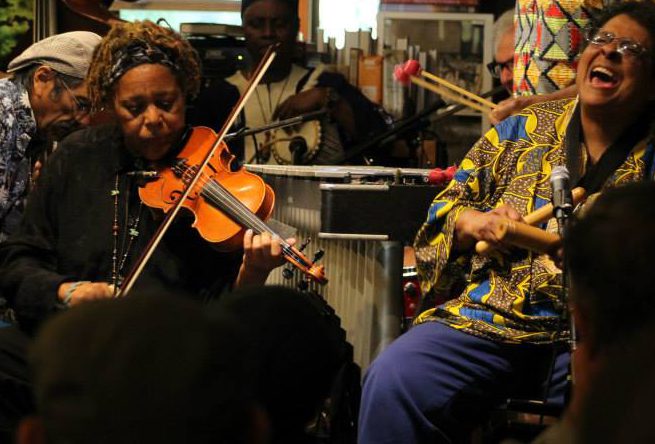 Jazz, Poetry & Afrobop!
Avotcja
with the Genius Wesley Trio
Avotcja lives and breathes as poet, musician, musicologist, broadcaster, mentor of young artists, friend and colleague of countless others. With her programs on KPOO (La Verdad Musical) and KPFA (Bebop, Cubop and the Musical Truth), she's exhibited for decades her deep connection to Afro-Caribbean, African and Latin music, to African-American blues and jazz, to poetry and equally to the multitudinous  communities that sustain and extend those art forms.  For years, Avotcja has brought her expansive ensemble Modúpue to Bird & Beckett the first Sunday of each year; when she brings her poems to the stage with Modupúe, her humanity and genius are on full display. 
Modúpue will return with Avotcja when the health crisis that is the coronavirus has abated; this evening, the Genius Wesley Trio will bring a brilliance to share that belies their youth, proving the absolute universality of the creative will.

BRING IN THE NEW YEAR RIGHT
It's THE ANNUAL HEALING EVENING of
POETRY, JAZZ & THE FIRE OF WORDSONG
with
AVOTCJA
(of Avotcja & Modúpue / Bay Area Blues Hall Of Fame
Jazz Group Of The Year 2010 & 2005)
&
THE GENIUS WESLEY TRIO
LUIS MANUEL PERALTA (Piano)
ISAAC COYLE (Bass)
GENIUS WESLEY (Drums)
AVOTCJA (Poet/small Multi-Percussion)
it's gonna be magic … come share the vibe!!!
Live on Bird & Beckett's Facebook page and YouTube channel.
$20 suggested donation / pay what you can at this link
Send your contribution by PayPal to [email protected],
by Venmo to @birdandbeckett,
or by the Cash app $BirdBeckett.

Or email a pledge and drop cash
or a check by the shop in the coming days.

Your generosity allows us to guarantee a "fair" wage of $150 per musician
for our live stream concerts during this pandemic period
of few gigs and sparse gig income.

Visit Avotctja's facebook page:
https://www.facebook.com/AvotcjaModupueGratitude
TAKE OUR SURVEY
To take our SURVEY, click here, and help the BBCLP get to know you better! As Duke Ellington always said, we love you madly...
Our events are put on under the umbrella of the nonprofit Bird & Beckett Cultural Legacy Project (the "BBCLP"). That's how we fund our ambitious schedule of 300 or so concerts and literary events every year.
The BBCLP is a 501(c)(3) non-profit...
[Read More ]
---
Gigging musicians! You have nothing to lose but your lack of a collective voice to achieve fair wages for your work!
The IMA can be a conduit for you, if you join in to make it work.
https://www.independentmusiciansalliance.org/

Read more here - Andy Gilbert's Feb 25 article about the IMA from KQED's site
Sign Up for Our Weekly Emails!