Sunday, July 28th – 2:30-4:00 pm
Mother California: A Story of Redemption Behind Bars
Author Kenneth E. Hartman on LWOP, the Other Death Penalty
Kenneth E. Hartman's sentence to life without parole was recently commuted by Governor Jerry Brown after he had spent 35 years in prison. He continues as an activist for prison and sentencing reform, as well as a writer.  This afternoon, Mr.  Hartman will read from his book, Mother California: A Story of Redemption Behind Bars, the fierce and affecting memoir of a convicted murderer, whose growing self-awareness enables him to understand his crime and achieve redemption.
In 1980, Kenneth E. Hartman murdered a homeless man in a Los Angeles area park after a drug-fueled binge. Sentenced to life without the possibility of parole by the state of California, Hartman was soon considered a potent force by the system's most brutal convicts. To the hellish chaos of a maximum-security prison he brought his own limitless propensity for violence—he often spent months at a time in solitary confinement, "the Hole."
After years in the cold embrace of the state prison system, Hartman discovered a vocation for writing; he also met, through a chance phone call, the woman he would marry and have a child by. With poignancy and self awareness, Hartman chronicles the anarchy and brutish moral code that rules in some of the world's most infamous prisons, where physical punishment is the only form of control. Over time, Hartman evolves into a sentient being; follows his newly discovered spiritual and literary inclinations; and learns to deal with his demanding responsibilities as a family man. The final chapter describes his development of the Honor Program, which helps motivated prisoners escape the ravages of incarceration.
Mother California is the story of a man who did not succumb to the darkness of the only world left to him. It offers definite proof that there is no such thing as a life beyond redemption.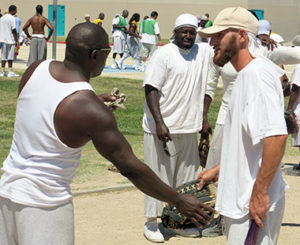 An October 18, 2016 article by Mr. Hartman discussing Proposition 62, which proposed to abolish the death penalty in California but would have effectively expanded the already burgeoning number of life without parole sentences handed out, details the ways in which LWOP must be considered "the other death penalty" and can be found at this link published online by the Marshall Project, a nonprofit organization that disseminates journalism on criminal justice.  An earlier article, where he discusses the honor program five years after its adoption at Lancaster State Prison is found here. Access to 50 of Mr. Hartman's articles including that one can be found here.
Our events are put on under the umbrella of the nonprofit Bird & Beckett Cultural Legacy Project (the "BBCLP"). That's how we fund our ambitious schedule of 300 or so concerts and literary events every year.
The BBCLP is a 501(c)(3) non-profit...
[Read More ]
Gigging musicians! You have nothing to lose but your lack of a collective voice to achieve fair wages for your work!
The IMA can be a conduit for you, if you join in to make it work.
https://www.independentmusiciansalliance.org/

Read more here - Andy Gilbert's Feb 25 article about the IMA from KQED's site