653 Chenery Street
in San Francisco's Glen Park neighborhood
1-415-586-3733
[email protected]
Open to walk-in trade and browsing
Tuesday to Sunday
noon to six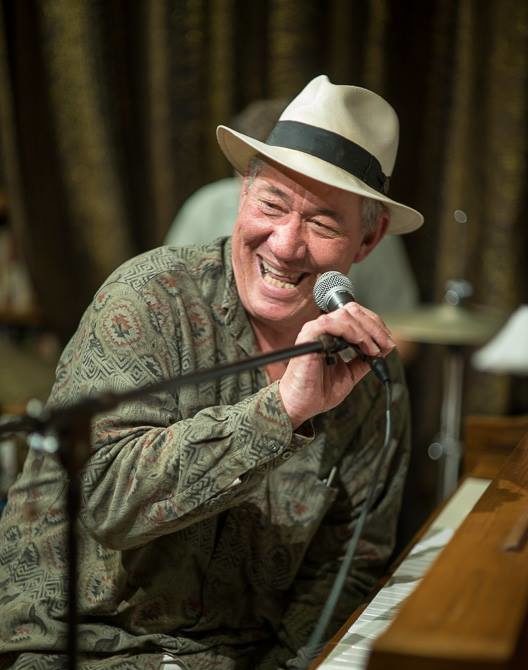 Going forward, there's a new, 6pm start time
for the Friday Happy Hour Jazz in the Bookshop show!
A 21-year tradition, started October 2002!
Eric & the In Crowd entertain the neighborhood every second Sunday, and this time out, October 13th, bassist Simon Planting and drummer Mark Rosengarden join pianist/band leader Eric Shifrin to regale you with tunes from Jelly Roll Morton to Fats Waller to Cole Porter to Art Tatum, and a few novelty numbers thrown in for good measure.
For these 6pm Friday shows, we'll be leaving the lights up for browsing and the kids' section accessible to make for comfortable browsing and much needed socializing (do hush on those sensitive ballads, though!). You'll still find cushioned chairs down front for those who want to train their eyes on the musicians and their ears on the music!
Bring something to sip if you care to. And though we recommend dining before or after the show (the neighborhood has several good spots), a little snack is cool. Just be considerate of the folks sitting next to you–everyone should have a good time at Bird & Beckett, especially at the end of a long work week!
Come with some cash to help us pay the band. Feed the buckets with what you can afford; a twenty is nice if it's not a problem for you, but maybe you're just passing through or squeezing every dollar 'til the eagle grins. In that case, put in what you can. Just realize these folks are playing jazz for a living, so help us help them out to the extent you're able! These days, we're guaranteeing the musicians each a hundred, but the standard is one fifty and getting there depends on a generous audience supported by an extremely generous donor base. The musicians we present are well worth it and well deserving, we're sure you'll agree. We love you madly for helping us make sure they get their just desserts! We want to keep the music rolling for another generation, and you're the key to making that happen!
There's a late show most Fridays as well, now with an 8:30 starting time, ending at 10pm! Bring cash and expect a cover charge for those, typically twenty bucks, and again, byob. The corner store and Canyon Market close at 8, so you'll need to plan ahead!
This Friday, October 13th, Korean-born, Brooklyn-based bassist Jeong Lim Yang brings Argentina-born & Brooklyn-based pianist Santiago Leibson and local hero Jon Arkin (drums) for a program centered on Mary Lou Williams' Zodiac Suite. $20 cover charge. You can hear the full Zodiac Suite at the Center for New Music downtown on Saturday night, but tonight at Bird & Beckett she'll play elements of that suite and explore the legendary pianist-composer-humanitarian in a broader context. Both concerts will be worth hearing, for sure. We caught her and Santiago this past Wednesday night, the 11th, playing with the genius scat-vocalist-from-Mars Lorin Benedict over in Hayward at the B Street Bistro. That was a delight! Come hear for yourself tonight at 8:30!
TAKE OUR SURVEY
To take our SURVEY, click here, and help the BBCLP get to know you better! As Duke Ellington always said, we love you madly...
Our events are put on under the umbrella of the nonprofit Bird & Beckett Cultural Legacy Project (the "BBCLP"). That's how we fund our ambitious schedule of 300 or so concerts and literary events every year.
The BBCLP is a 501(c)(3) non-profit...
[Read More ]
---
Gigging musicians! You have nothing to lose but your lack of a collective voice to achieve fair wages for your work!
The IMA can be a conduit for you, if you join in to make it work.
https://www.independentmusiciansalliance.org/

Read more here - Andy Gilbert's Feb 25 article about the IMA from KQED's site
Sign Up for Our Weekly Emails!